May 2023 – Aliita and Bluebell Group are pleased to announce their partnership aimed at further extending the jewelry brand's presence in the Japanese market. The jewelry brand will be present in PLAN C locations, launching in August at Isetan's Shinjuku in Tokyo and Umeda Hankyu in Osaka, to be followed by the opening of a flagship store in Tokyo.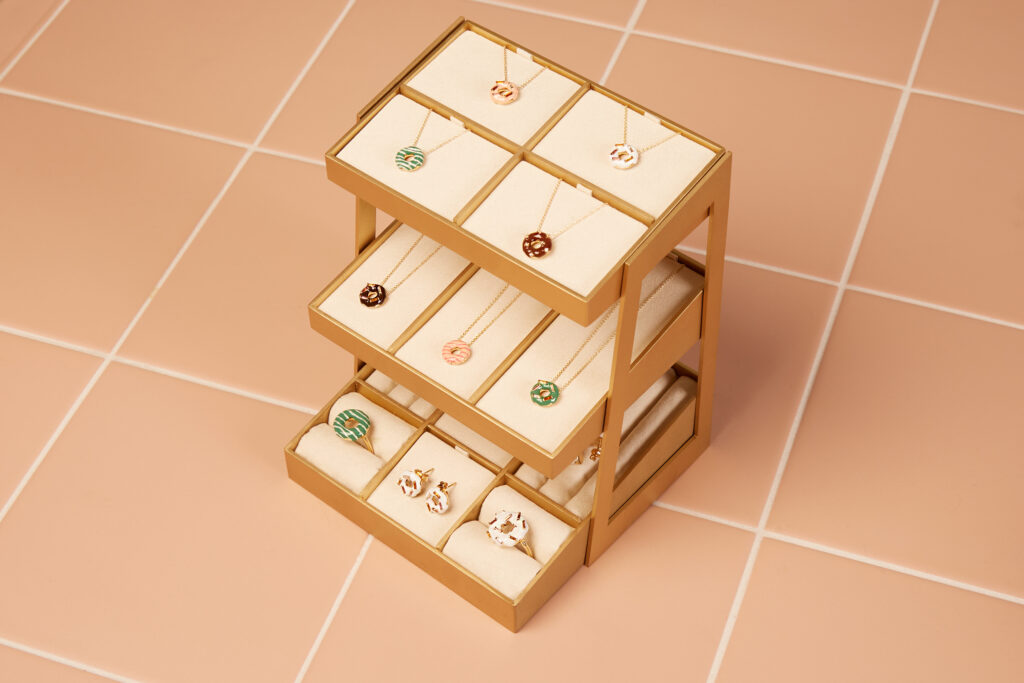 Founded in 2015 by Cynthia Vilchez Castiglioni, Aliita is a distinguished jewelry brand known for its sophisticated designs that blends refined style with playful touches. The brand is deeply committed to environmental and social responsibilities, producing its creations in Italy using high-end, certified materials and aims to deliver products with a purpose that are well-made and long-lasting, while empowering women to pursue their dreams through its designs.
The Bluebell Group is a pioneer in Asia in brand and retail development, operating 150 brands across the region. With deep local market expertise and managing over 50 global brands in the Japanese market, Bluebell Japan will oversee the jewelry brand's overall presence, including local marketing activation and omni-channel operations, to reach sophisticated consumers looking for uncompromising quality and design.
Cynthia Vilchez Castiglioni, Founder & Creative Director of Aliita commented: "I'm very excited to be focusing on expanding the Japanese market which has been our first and most loyal market. Thanks to Bluebell's strengths and understanding of the market, I'm confident we can consolidate our presence and grow our business."
Serge Grebert, President of Bluebell Japan, added: "We are excited about our partnership with Aliita, introducing their sophisticated designs to our discerning Japanese customers. Committed to providing exceptional experiences for our customers through a focus on quality, design and customer service, we look forward to a long and successful partnership with Aliita in Japan."
ABOUT ALIITA
Founded in 2015 by Cynthia Vilchez Castiglioni, the jewelry brand is distinguished for its sophisticated creations, which mix a discreet and refined style enriched by playful and lively touches.
As the name indicates, ALIITA means "important object" in Wayuu, language of the native people of Guajiros who live in the same region of Venezuela where Vilchez was born.
Fully aware of the impact of its productions and operational practices on the environment, since the beginning, Aliita has embraced a responsible approach reflecting its profound sensibility and awareness of environmental and social issues.
Reflecting a slower pace and process, Aliita aims to deliver products with a purpose, which exude a sense of well made and long lasting. Along with choosing to produce in Italy using high-end, certified materials, through its creations, Aliita also aims to empower women, pushing them to follow their dreams and to encourage them to find their own place in fields with low female participation. Aliita strongly believes in the power of messaging to achieve concrete goals.
Press Contact: celeste.morozzi@plan-c.com
ABOUT BLUEBELL JAPAN
Bluebell Japan is the Bluebell Group's first entry into the Asian market, established 69 years ago. Today in Japan, the Group has 700+ employees, operates direct retail as well as wholesale and e-commerce for 50+ leading fragrance, beauty, fashion, footwear, watches, jewelry, gourmet and cigar brands. A pioneer in multi-channel retail excellence, Bluebell Japan is a market leader in fragrance, with its own multi-brand concept stores L'Atelier des Parfums.
A family-owned group, Bluebell Group today has over 3,800 employees, 650 points-of-sale, US$2b in turnover.
Press Contact: ageronimi@bluebellgroup.com